Folding quickly changes your definition of a scooter: one push for one world, one push for one trip. Mainly have the following characteristics:
/01/ The frame is composed of high-grade aluminum alloy, which is light, stable and durable.
/02/ It can be folded and unfolded without any tools, and the operation method is simple and easy to learn.
/03/ The front and rear frame can be folded and the seat can be folded, making this product more convenient to carry.
/04/ Ultra-lightweight and easy to carry, the folded volume is small and convenient for domestic and foreign travel. It is easy to put in the trunk of a car or carry it on popular transportation vehicles.
/05/ The battery is easy to disassemble and assemble, and it is also convenient for the user to carry with him.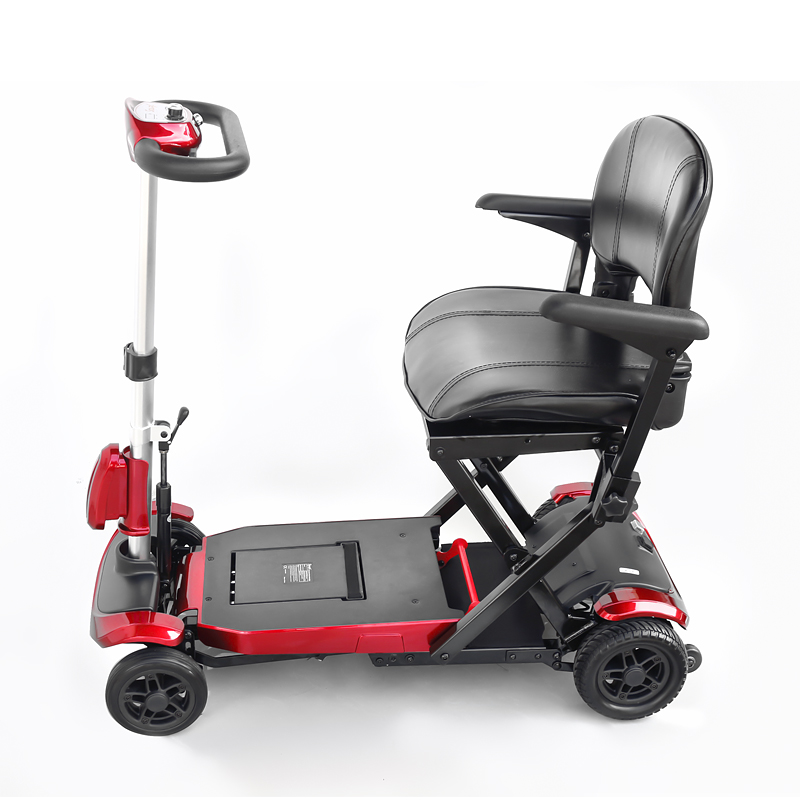 /06/Comfortable-ergonomically designed seat cushion back cushion; adjustable handle set up and down to facilitate the most comfortable height adjustment and adjustment of the front and back tilt angle.
/07/ 6-inch solid front wheel and 7-inch solid rear wheel design.
/08/ Start smoothly, brake flexible and stable.
/09/ The appearance of the body, the line is beautiful and elegant, the surface is smooth and bright, environmentally friendly and durable.
In short, SOLAX folding scooter is a unique scooter. It is a reliable folding scooter for middle-aged and elderly people, the disabled or the elderly who have difficulty walking, frail, lack of durability, people with inconvenient legs or physical disabilities. The car can also be used in large theme parks, amusement parks, zoos, museums and other venues. It can also be used for middle-aged and elderly people, women, and ideal transportation and shopping tools in large supermarkets in tourist communities